Ice Cream
We've been making our homemade, premium ice cream on the premises from the very beginning. With over 25 flavors to choose from, everyone is sure to find a new favorite, maybe in a homemade waffle cone! Check out our full hand-dipped ice cream menu below. 
Our ice cream, frozen yogurt, and sherbet come in hand-packed half-gallon containers so that you can share the goodness with friends at home. 
Looking for a sweet treat for your next celebration? Call us and pre-order your ice cream pies, cupcakes, or 3-gallon tub.
What Size?
Specialty Cones

Homemade waffle cones, dipped in chocolate, pretzel, cookie, sugar

Can't make up your mind?

A sampler lets you try four flavors with four small dips.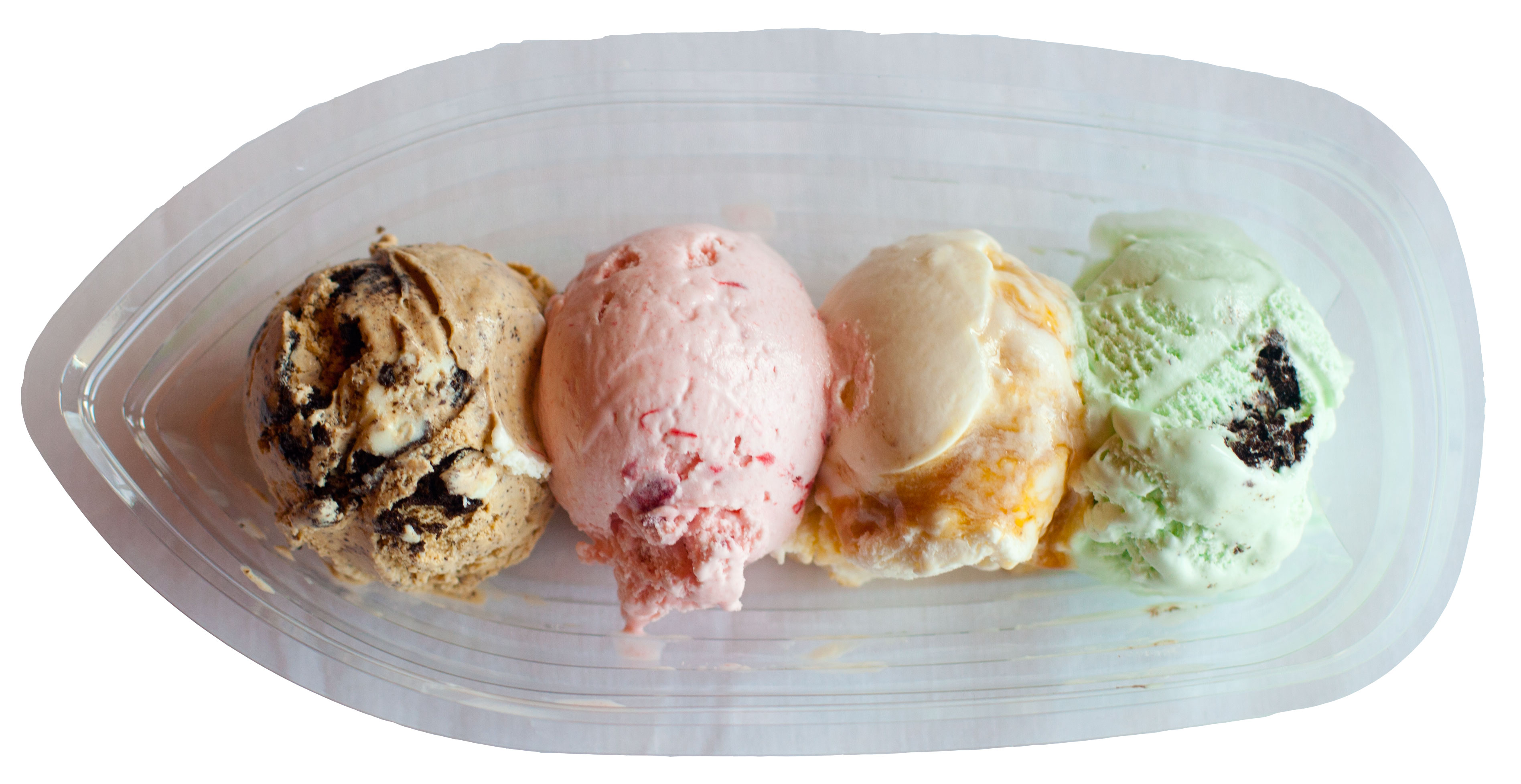 Specialty Single Dips

Rice krispie bowl, homemade chocolate chip cookie sandwich
What Kind(s)?

one flavor per dip
Ice Cream
Butter Brickle
Butter Pecan ~
Cherry Vanilla
Chocolate
Chocolate Chip Cookie Dough *
Chocolate Chip Mint
Chocolate Marshmallow
Chocolate Peanut Butter Curl ~
Coconut Pineapple
Coffee
Espresso Oreo Caramel *
German Chocolate Cake *~
Maple Walnut ~
Orange Creamsicle
Oreo Cookie *
Oreo Mint *
Peanut Butter Curl ~
Raspberry
Salted Caramel
Strawberry
Strawberry Cheesecake
Vanilla
Feature Flavors

Click here to view our ice cream and frozen yogurt flavors of the month!
Allergen Warnings:
* contains gluten
~ contains peanuts or treenuts
All flavors manufactured on shared equipment
Berry Dairy
Strawberry cheesecake ice cream with strawberry topping, whipped cream, peanuts, and a cherry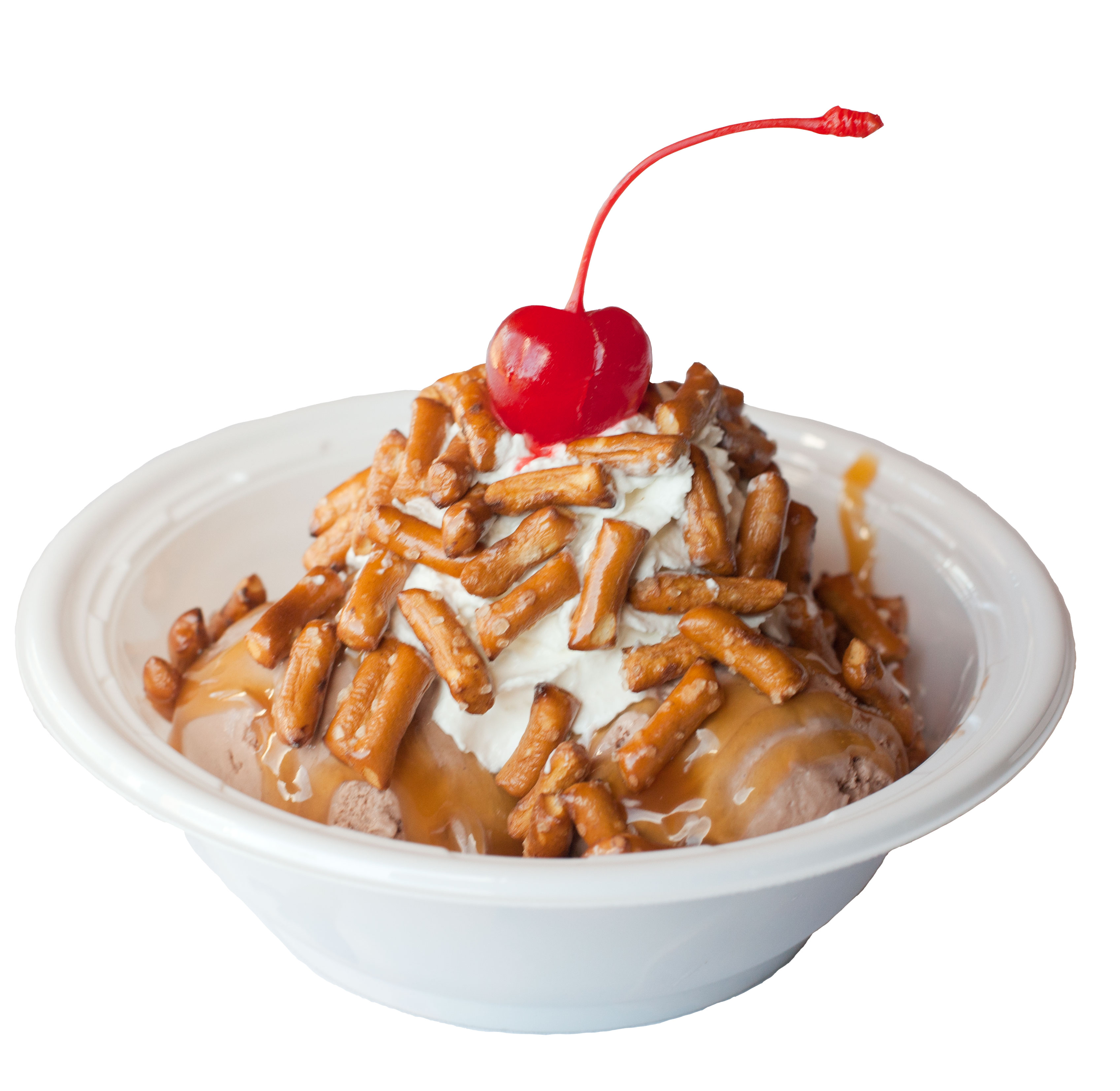 Haystack
Chocolate ice cream, caramel, pretzels, whipped cream, and a cherry
Green Meadow
Mint chocolate chip ice cream with chocolate syrup, whipped cream, sprinkles, and a cherry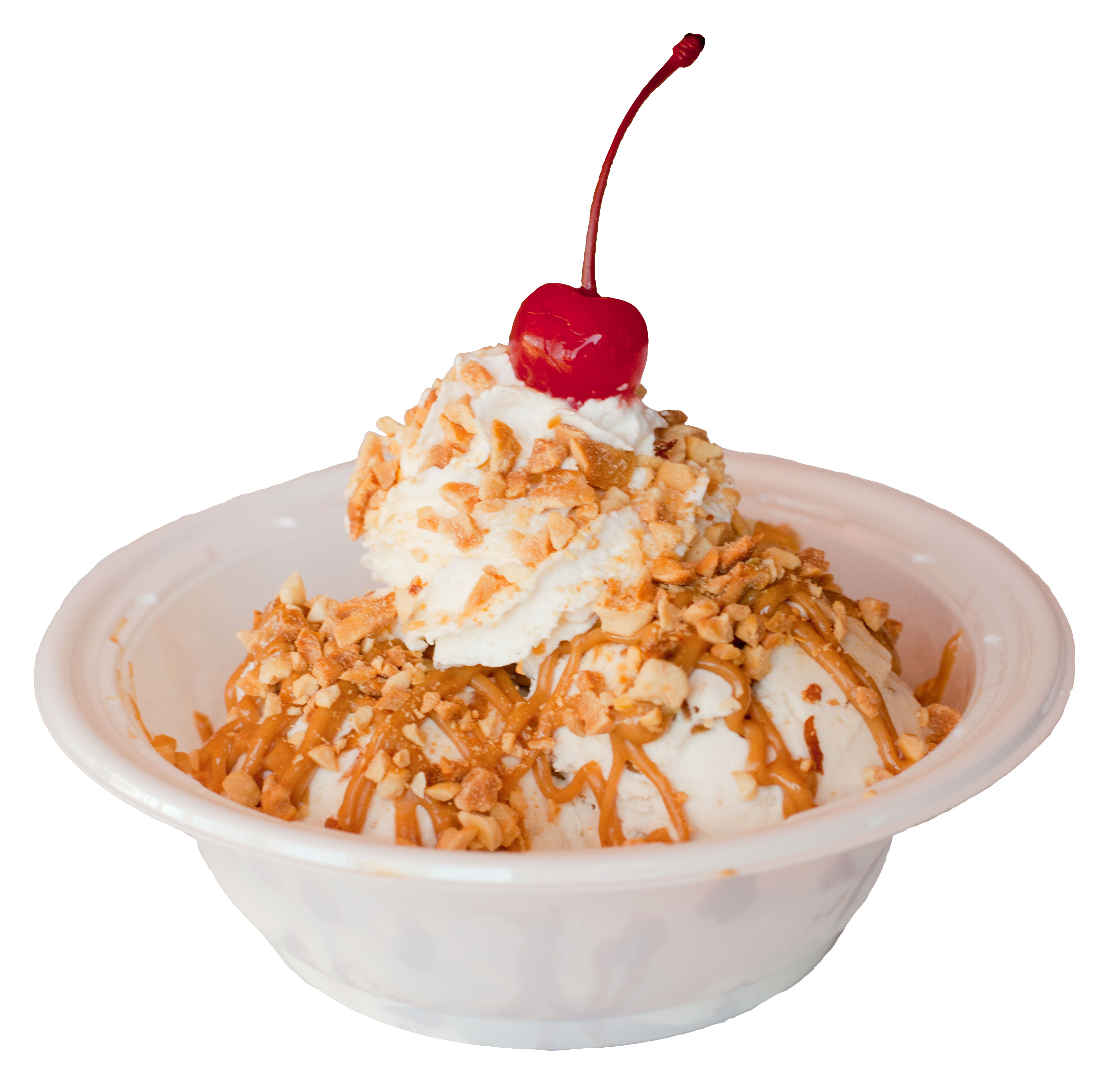 Nutty Farmer
Peanut butter curl ice cream with peanut butter sauce, whipped cream, peanuts, and a cherry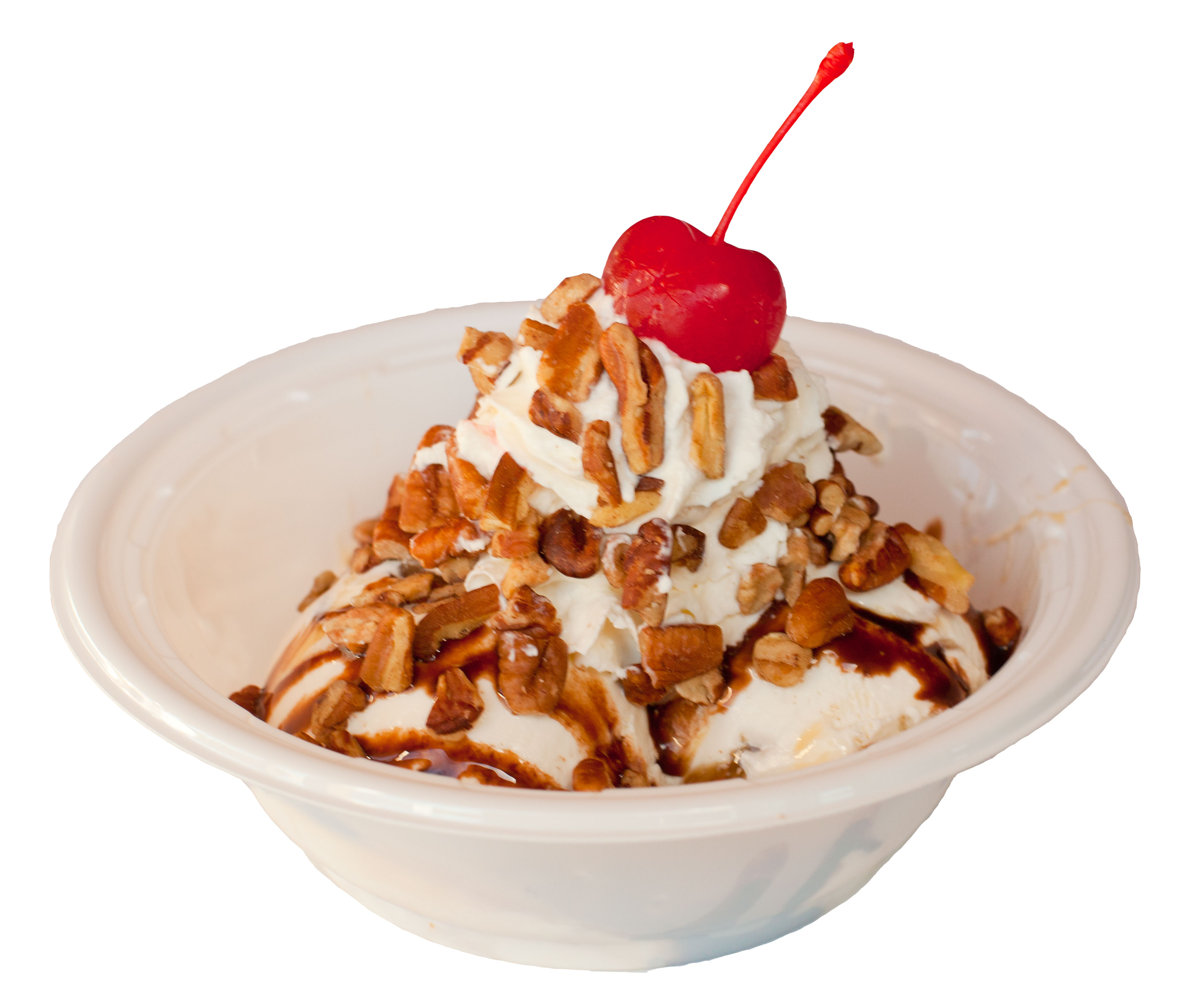 Turtle
Salted caramel ice cream, chocolate syrup, whipped cream, pecans, and a cherry Moo Chews
Choose up to three flavors of ice cream and one topping, with whipped cream, rainbow sprinkles, and a cherry
Hot Fudge
Vanilla ice cream with hot fudge, whipped cream, sprinkles, and a cherry
Cow Pie
Vanilla ice cream with a whoopie pie, hot fudge, whipped cream, sprinkles, and a cherry
Banana Split
Chocolate, vanilla, and strawberry ice cream with caramel, strawberry topping, and pineapple topping covered in whipped cream, peanuts, and chocolate syrup with a cherry on top
The Trough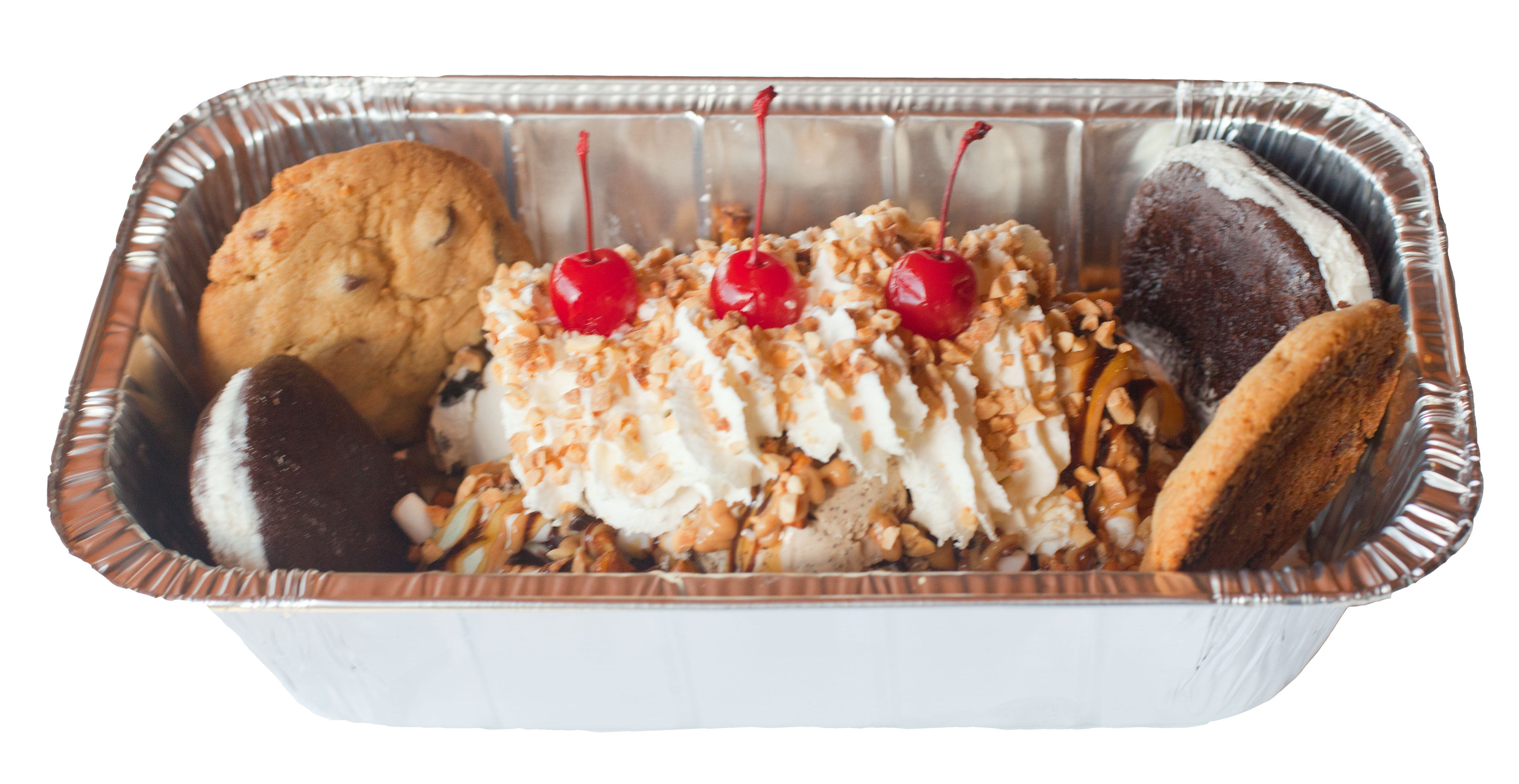 serves 4-6 people
12 dips of ice cream
vanilla, chocolate, butter pecan, raspberry, oreo cookie, chocolate chip mint, chocolate peanut butter, peanut butter curl, strawberry, espresso oreo caramel
8 toppings
chocolate syrup, caramel, peanut butter sauce, marshmallows, pretzels, peanuts, whipped cream, cherries
2 garnishes
chocolate whoopie pies, chocolate chip cookies
 Milkshakes
topped with whipped cream and syrup
Milkshakes:
choose up to four flavors of ice cream, substitute chocolate milk for 20¢
Malt:
up to four flavors of ice cream with malt
Banana Shake:
choose up to four flavors of ice cream, made with real banana and whole milk
Moo Mixers

topped with whipped cream
Orange Cow:
vanilla ice cream with orange soda
Brown Cow:
vanilla ice cream with root beer
Purple Cow:
raspberry ice cream with lemon-lime soda